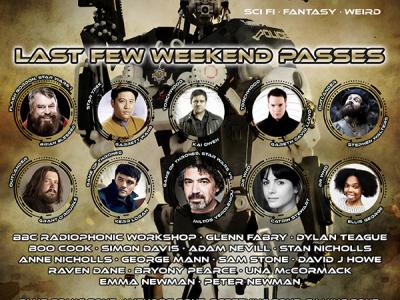 SFW, originally known as the Sci Fi Weekender and now in its 7th year has recently announced a string of actors and authors for its Sci Fi and Fantasy Festival next March.
Joining the legendary Brian Blessed and Star Trek's Garrett Wang are a Classic Duo from Russell T Davies's Dr Who spin off, Torchwood , Kai Owen and Gareth David Lloyd will be among many other quality actors from across the Science Fiction and Fantasy spectrum. The Time Travellers fantasy favourite, Outlander is now filming its second season and after Graham McTavish's appearance last year, it looks like we will have the pleasure of catching up with Stephen Walters and Grant O'Rourke.
Game of Thrones seems to get stronger every season, so it would be a crying shame to miss out on a GOT panel for SFW 7. So, to rectify that, Game of Thrones stars, Kerr Logan and Miltos Yerolemou, who also stars in the upcoming Star Wars VII release, will be on hand to fill us in on their perception of the hit TV series.
There have been appearances from many of the various time lords from Dr Who appearing over the years, but for SFW 7 we will be concentrating on the Doctors ladies. Catrin Stewart and Ellis George will be around to discuss the other side of the Tardis so to speak.
SFW 7 will continue to feature and expand the various zones within the festival experience with authors, screening and comics a primary focus. We are blessed by a credible tranche of true pro's, so in no particular order, these are the ones who are confirmed so far, Glenn Fabry, Dylan Teague, Boo Cook, Simon Davis, Adam Nevill, Stan Nicholls, Anne Nicholls, George Mann, Sam Stone, David J Howe, Raven Dane, Bryony Pearce, Una McCormack, Emma Newman and Peter Newman.
Outside of the main panels this year, SFW will be featuring BBC Radiophonic Workshop, Comic Zone, Author Zone, Screening Zone, Gaming Zone, Quizzes, Exhibits, Cosplay, Masquerade Ball, The incredible Area 51's, 2016 Imaginarium, plus some live performances from Jethro Tull's, Ian Anderson, Focus, Caravan as well as The Crazy World of Arthur Brown to name a few.
This Sci Fi and Fantasy weekender continues to be unique in many ways, it probably boasts one of the friendliest Sci Fi and Fantasy communities on the planet, some call it Geek Camp, we call it SFW.
SFW 7 takes place at Camp SFW, Pwllheli, North Wales between the 17th / 20th March 2016. The event is down to its last few tickets which can be booked on www.scifiweekender.com or by ringing 0208 133 5843