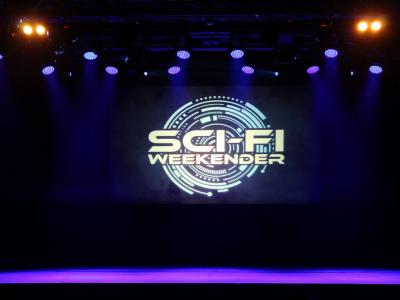 Here you go folks... The latest guest announcements for next year's SFW8:
Paul McGann, Daphne Askbrook, Wendy Padbury and a legion of Cybermen join James Marsters, Gareth David-Lloyd & Frazer Hines at the 8th Cycle of SFW (Science Fiction & Fantasy Weekender )
SFW (Europe's biggest residential Science Fiction & Fantasy Festival) are proud to announce another fantastic array of actors, authors & special effects.
For this year, we've promised a big focus on Doctor Who and have reached out, across the galaxy and beyond, to bring in a shining spectrum of talent to discuss and interact with our Doctor Who Special Panels.
First in (as voted by the fans) the amazing talents of Paul McGann (who played the Eighth Doctor in the 1996 UK/USA-produced Doctor Who TV Movie, and returned in a special mini-episode The Night of the Doctor, for the 50th Anniversary in 2013). Making a rare UK appearance, SFW is delighted to welcome Daphne Ashbrook, who had the memorable role of Dr Grace Holloway in the same 1996 pilot movie, and played as the title character in Star Trek: Deep Space Nine's episode 'Melora.
Joining Paul and Daphne, we welcome Wendy Padbury into the SFW realm. Wendy shot to sci-fi fame in 1968, when she landed the role of Zoe Heriot in Doctor Who, alongside Patrick Troughton & Frazer Hines. Fabled for her sparkly catsuits, razor-sharp intellect, and a certain carousel shot on the TARDIS console in The Mind Robber, Wendy played one of the smartest assistants the Doctor ever had.
Moving to the Author Zone, after writing three fantastic novels for the BBC's Doctor Who range, Jenny T Colgan had to be with us, as does SF author Simon Morden, who has had a writing career which includes an eclectic mix of short stories, novellas and novels, blending science fiction, fantasy and horror; a five-year stint as an editor for the British Science Fiction Association; acting as a judge for the Arthur C Clarke Awards, and also performing at regular speaking engagements.
Award-winning Fantasy/Horror author Freda Warrington also enters the Author Zone. Freda has so far written 21 novels of epic fantasy, swords 'n' sorcery, gothic vampire romance, contemporary fantasy, the supernatural, and alternative history.
We did promise a wide spectrum of talent for Doctor Who and bringing in Illustration Guru Jeff Cummins enriches another panel. Jeff's involvement with Doctor Who began in 1978 when he was commissioned to provide cover images for several of the novelisations published by Target Books. Covers for The Tomb of the Cybermen, The Mutants, The Three Doctors, The Doomsday Weapon, The Giant Robot, The Face of Evil, The Talons of Weng-Chiang and The Horror of Fang Rock followed. He also provided covers for a range of factual books called Doctor Who Discovers…, then in the 1990s, covers for several original Doctor Who novels: Blood Heat, The Dimension Riders, Theatre of War and Sky Pirates!
Finally, no Doctor Who feature would be complete without a stage set, soooo... as part of the event, there will be an impressive set-piece display of the Tombs of the Cybermen, from the iconic 1966 Patrick Troughton adventure. We will be arranging for some of our Guests to open the Tombs for us ... to reveal a Legion of Cybermen ... The set and Cybermen will be available for photo opportunities over the Weekender. "You –will – be – like – us!" as the defrosted silver inhabitants of Telos put it. Well, you will like us, anyhow!
The fearsome Cybermen will also be at the event in force, keeping their cyber-eyes on proceedings. Expect also to see Daleks and other monsters too patrolling the grounds. The Tomb set, TARDIS, Cybermen, and other monsters are there courtesy of Sam and the 15th CyberLegion.
All the above talent add to an already impressive line-up which includes Buffy's James Marsters, Torchwood's Gareth David-Lloyd, Outlander's Duncan Lacroix  & Steven Cree. amongst a horde of artists, comics, authors and actors.
SFW is a unique Community Festival with like-minded people who can experience 7 Zones full of panels, authors, cosplay, gaming, comics, creators, curators, drones, Virtual Reality, screen writers, films, costumes, an imaginarium, masquerade ball, quizzes, special effects, stage sets, and much much more.
SFW 8 takes place @ Camp SFW, Pwllheli, Gwyned, North Wales on 30th March - 2nd April 2017 and is already down to its final 45 rooms. To make sure you get a involved with this wondrous experience, either book online @ www.scifiweekender.com or ring Lisa on 0207 097 1521