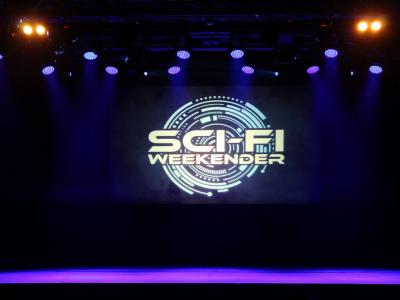 SFW are excited to announce the exclusive pre-screening of a stunning new British Sci-Fi Horror' Pandorica' followed by Q & A discussion with Writer & Director and cast.
The film revolves around the leadership trials of the Varosha Tribe. Eiren, Ares and Thade are all in line to lead the next generation of their people. They journey out of the safety of their home towards a dark forest miles away where tradition dictates a new leader will be chosen. Only one of them will return. 
Pandorica is an edge of your seat action horror that keeps the twists coming thick and fast.
Written and directed by Tom Paton who has directed music videos for an array of artists including Flux Pavilion (Bass Cannon), Artful Dodger and Disclosure as well as a multitude of TV commercials. Tom is a regular feature writer for various internationally published magazines and is also a skilled video editor and FX designer. Tom has started his own sales and distribution company 'The Film Label" which will give him the opportunity to curate fresh up and coming talent to a worldwide audience.
Tom Paton will join cast members Jade Fenix-Hobday (Eiren), Bentley Kalu, (Nine), Marc Zammit (Ares) and Adam Bond (Thade) for a Q & A.
Official Trailer:
SFW 7 takes place at Camp SFW, Pwllheli, North Wales between the 17th / 20th March 2016. The event is down to its last few tickets which can be booked on
http://www.scifiweekender.com or ringing 0208 133 5843