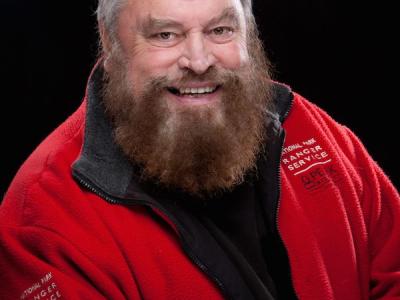 'Look out I'm coming to get you…' says award winning actress Eve Myles. Torchwood's Gwen Cooper will appear at SFW 7 alongside her Torchwood onscreen husband Rhys Williams portrayed by Kai Owen.
SFW, originally known as the Sci Fi Weekender and now in its 7th year, will bring like-minded people together for a weekend to fully immerse themselves in a sci-fi & fantasy culture. The weekend will play host to some of the world's most popular science fiction and fantasy films and TV-shows.
The legendary Brian Blessed, will be returning for the third time. This larger than life Cult hero will be entertaining guests again with his brilliant storytelling and adding real star quality to the event.
Other big names lined up for the event include Star Trek's Garrett Wang, The Time Travellers fantasy favourite, Outlander's Stephen Walters and Grant O'Rourke. Game of Thrones stars, Kerr Logan and Miltos Yerolemou will fill us in on their perception of the hit TV series.
SFW 7 will be concentrating on the Doctors ladies. Ellis George will be joining Eve Myles to discuss the other side of the Tardis so to speak.
"This year Sci-Fi weekender has an impressive line-up of award winning talent taken from the genre writing world. Adam Nevill and Stan Nicholls take to the main stage to talk about their writing, George Mann and Una McCormack will be discussing writing for Doctor Who and all attending authors will be taking part in a wide range of panels discussing writing from Horror to Science Fiction," says horror writer, Sam Stone. "There will be author readings followed by Q & A sessions, where fans can ask questions about writing. Emma Newman will deliver an empowering writing workshop on how to avoid writer's block, and with Raven Dane, Bryony Pearce and Peter Newman speaking, there is something for everyone. Doctor Who historian and writer, David J Howe will take to the main stage as the host of the ever popular JUST A MINUTE too. So there's an extremely stimulating, packed programme of events. I'm also really looking forward to interviewing Eve Myles and Kai Owen on the Torchwood panel - which promises to be revealing and outrageous!"
Outside of the main panels this year, SFW will be featuring BBC Radiophonic Workshop. At the Screening Zone, there will be an exclusive preview screening of British Sci-Fi horror film 'Pandorica' and a Q&A with director and cast.
Dez Skinn and Alan Mitchell will be hosting in the strip club, and for our exciting new comics Masterclasses featuring Glenn Fabry, Simon Bisley, William Simpson, Clint Langley, Dylan Teague, Boo Cook, Simon Davis and Victor Wright. The Retro Computer Museum and Kitacon will be exhibiting 50 years of gaming, in a brand new attraction for this year's SFW – featuring 70 consoles.
There will be plenty of Exhibits, including one of the world's leading cosplayers Tabitha Lyons (Artyfakes), who will be offering a chance to see them demonstrate their outstanding craft. Cosplay Queen The Blue Girl and King of Cosplay David Roth will be there to show and offer their expertise.
Fancy trying your hand at being a Jedi? – we'll be running an exciting drone-fighting activity throughout the weekend, hosted by Computer tech Wizard, writer and SF author Luis Villazon. Finals will take place on the main stage on Saturday.
Our friends from AREA 51 will be once again bringing a team of their finest – daytime walkabout, dancers, Masquerade ball fun, and of course they'll be hosting the legendary IMAGINARIUM once more. Expect Exploding bubbles from Graham Maxwell's Amazing Bubble Show, new to the Imaginarium Magician Barrington Powell will be cooking up a time-travel flavoured soup of steampunk styled stage-based savoir faire, and welcoming back to the stage, award winning Hip Hop artist and accomplished host Professor Elemental.
DJ's Phil Hutchinson – aka Last Knight will be keeping you awake long after bedtime. Playing his eclectic mix of upbeat Geek Party classics, Plus Professor Elemental's very own sidekick Nick Maxwell - a DJ fellow of great renown and AREA 51's very own Intelly-gents complete our DJ line-up for now.
There will also be live performances from Jethro Tull's, Ian Anderson, Focus, Caravan as well as The Crazy World of Arthur Brown to name a few.
SFW 7 takes place at Camp SFW, Pwllheli, North Wales between the 17th / 20th March 2016. We are down to our last few tickets which can be booked on
www.scifiweekender.com or ringing 0208 133 5843
Of course, we will be there covering the event, doing interviews and loitering around the bar.... So come and say hi.