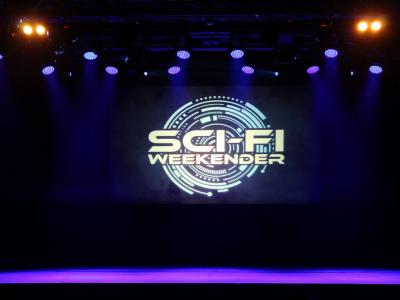 THE COUNTDOWN IS RUNNING: ARE YOU READY FOR LIFT OFF?
For eight 21st century years Chic Festivals has guided and organised the ever-popular Sci-Fi & Fantasy Weekender: a packed weekend of entertainment, guests, films and partying all set in the magical surroundings of North Wales. Now the team are turning Metropolitan and bringing the show to the City of Steel!
In 2017, stand by for SFW In The City! All the fun, fandoms, and vibrant experience of the legendary Weekender crammed into three zones over two days, plugged right into the heart of the UK: Sheffield.
Join the SFW team for stars, experts, and genre guests; for fascinating panels; for films, music and entertainment; for gaming, books and cosplay.  In fact, for as much geekery and adventure as can be crammed into the space of a weekend! What? We canna break the Laws of Physics? Never heard of them, Mr Scott. Full speed ahead!
The O2 Academy in Sheffield has been booked for 7th and 8th October 2017 ... and the schedule is being packed with Authors, Panels, Gaming, Comics, Artists, Quizzes, Props, Costumes, Plays and much, much more ... and all for a bargain entry price! Each day is planned to be unique, with different guests attending and different activities taking place, so it's going to keep attendees busy and engaged for the whole time!
So come along and join Chic Festivals, Telos Publishing, Area 51 and SciFi London as they present the greatest show on Earth (and quite probably off it)!  SFW In The City! http://www.sfwinthecity.com