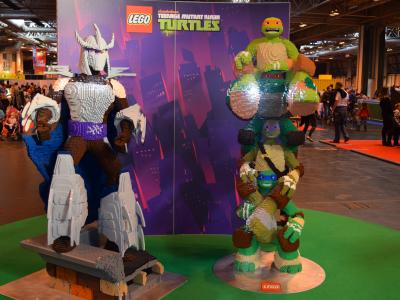 You know that sound?
That 'gnnnhhh' sound?
The one that you do in earshot of young children when you have just stepped on a piece of Lego and don't want to use profanity?
Well imagine the sound of dozens of adults having to crawl on hands and knees in a 20 foot square pit of Lego bricks some 6 inches deep. 
Many a profanity was uttered, which must help the makers of Denmark's finest toy fulfill their remit of educating children through play. I would suggest they didn't really mean like that though.
This is Brick 2015 at the Birmingham NEC, a celebration of the world's most prevalent toy.
Lego holds a special place in many a heart. As a child, a method of endless expression, building amazing creations that rival the greatest imaginings of the world's most famous engineers, mechanics, builders and minds.
As an adult, a way to connect to your children and/or your own youth. Although through the prism of age those amazing devices and constructions that you took pride in are 'not quite' the earth shatteringly , award winning moments of genius you remember.
For those that simply revel in the joy of building, then Brick is a plastic nirvana. The Brick pits are a magnet for that simple joy of clipping one block to another, even better this is without the inevitable moment where you run out. There were several of these, filled with four by two bricks of a single colour (A week later I am still seeing through a tinge of Orange). 
At the other end of the scale, some very professional and detailed models. The 20 plus feet long Titanic impressed me greatly.
There were displays of 'fan builds' , dance areas, video's, a play area Lego Dimensions, another for next year's Lego Avengers, large scale Lego figures, etc,etc.
A convention for a single toy range would ordinary seem like a niche market, but not here, there were plenty of people here, and not just serious collectors, this is a family event, there were joyous kids everywhere. Too bloody right too.
You could play, shop, admire, design your own mini figures, purchase sets and generally have a grand day out, the only downside is being unable to sell your organs to get that £3500 millennium falcon set…
Oh, and don't forget the Guinness world record attempts at speed building. These are simple builds that anyone could do, so you will find yourself thinking that you could do them yourself, you will try...and we're back to swearing...
This is a proper family day out, after a long day of wandering through stalls, being photographed next to life size Hagrids', Iron-Man Hulkbuster suits of armour, dragons, Ninja Turtles, then it's an exhausted but fulfilled trudge back to the car in the real world with only several large bags of purchases to show for it.
This is a full day, and a worthwhile one. If I could offer some advice get there early but be prepared to be there until the end.
Elbow and knee pads will be a good idea for the brick pits too...
The next Brick convention is 11th - 13th December at the Excel covention centre in London. More details at:  http://brickshowslive.com/