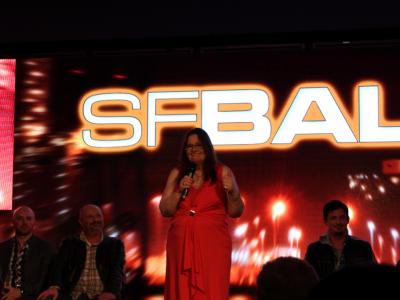 Having reached the tender age of 21, The Sci Fi Ball (formerly Starfleet Ball) has now left its hometown in Bournemouth and headed out towards pastures new. In this case, the pasture is that of The Grand Harbour hotel. The Grand Harbor is an impressive venue on the seafront of Southampton overlooking the ferry ports which, for this weekend, would serve as a haven for hundreds of Sci Fi, Fantasy and Comic fans.
Sylvester McCoy
Attendees of the SF Ball have the opportunity to spend the weekend immersing themselves in all manner of comics, games, talks, cabaret, discos, trailer screenings and much more. As well as taking part in Q&A sessions with the guests, attendees can also mingle, have photos taken, get autographs signed and even do The Time Warp on the dancefloor with the guest stars.
Built around Saturday night's three course dinner and the Ball itself, this event is aimed very much at a smaller crowd than other, bigger expos and signing conventions. This gives the whole affair a real feeling that you're there to take part in what is essentially a big, family weekend get together. A large proportion of the attendees and crew have been with the event since its inception and this is more than evident in the level of group camaraderie on display over the weekend. As a newcomer to the event I was a bit concerned that this would leave us a little bit on the outside of things, but every effort was made by the crew and other attendees to make us feel at home. This was achieved through a mix of welcome sessions for all of us newcomers and the now legendary Con Dance Workshops. These workshops are an absolute must if you're planning on joining in with some of the more complicated dances that take place during the Saturday night disco as they can help you to avoid any unfortunate accidents resulting from zigging when you should have zagged. 
Having a core group of guests in attendance for the whole weekend meant that everyone had every opportunity to see and meet each of the stars. The programme of events and talks were scheduled such that there was always something going on around the hotel, but not so much that you were overwhelmed with options and thus missed out on something you really wanted to attend. 
'B' introduces the guests
Speaking of guests, those in attendance at this year's event included 7th Doctor and Companion: Sylvester McCoy and Sophie Aldred; Game Of Thrones and Highlander actor: James Cosmo; Live Role Playing Nerd turned Hardest Working Actor in all Christendom: Julian Seager; Novelist and First Lord of Far Fetched Fiction Robert Rankin; and Star Trek Voyager and Beat Boxing/Dawson's Creek theme tune Karaoke Kings: Manu Intiraymi and Robert Duncan McNeill as well as many more authors, artists and musicians. The full list of attendees can be found on the event's website as well as details for next year's event which looks set to feature Star Trek Actor and Director Jonathan Frakes.
Costumes and cosplay formed a major part of the event with the Friday and Saturday nights each having different themes, this year being The Flintstones on Friday and Steampunk on Saturday. The standard of the costumes on display was extraordinarly high leading to a hotly contested costume competition. As well as the costume competitions, there were also various other competitions on offer over the course of the weekend for poetry, prose, art and model making.
So, in conclusion, if you like your conventions a little bit more on the sedate side, with a friendly, welcoming atmosphere, a truly awesome three course dinner with the stars all capped off with a rousing chorus of Star Trekkin' then this could well be the one for you. As if all of that wasn't enough, the proceeds from the various auctions and raffles over the course of the weekend all went to charity, with over £3000 being raised for the Teenage Cancer Trust at this year's event alone.
Keep an eye out for our podcast with the event organisers coming soon and we'll see you at the bar next year.