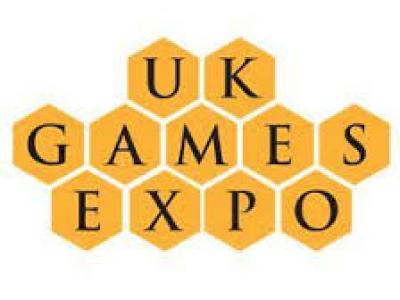 Well, Day 1 of the UK Games Expo is in the bag. I'm back home, utterly exhausted, but very very happy.  Here, in no particular order, are my highlights of Day 1, and games to keep an eye out for if you're heading down over the weekend.
Wotan Games - Stopped by their table at the press previews this morning to check out War of the Nine Realms.  It's a modular tile based, tactical skirmish style board game, set in the rich setting of norse mythology.  It uses cards rather than miniatures as markers, and is probably going to quickly become a gateway game to those wanting to explore miniature gaming.  The gameplay can be switched between Heroic and Epic, allowing for a basic combat/dominance game, or a more tactical game with special powers and abilities coming in to play, depending on how you want to play.  Brush up on your Norse Mythology for this one.  Check out the next episode of the podcast for details on the Kickstarter for this, it's worth checking out.
I jumped aboard the Wotan Bus a little later in the day to play Camelot: The Build with some friends.  It's an interesting game, and I think there's more to it than we experienced.  It may have been the luck of our tile drawing, but the point distribution seemed a little unbalanced.  It's also probably not optimised for a trio of players, which is what we were; and probably works better for 2 or 4 players.  It's hard to get a real sense of strategy from such quick play throughs, the sheer amount of things to do at the Expo means you don't often sit and replay a game demo.
Gen42 Games - I remember playing Hive whilst on a date at Thirsty Meeples in Oxford, and I remember getting my ass kicked repeatedly and coming back for more (at the game, I hasten to add). I loved that game, and so when I saw they had a new game out I just had to try it.  
Tatsu is just fantastic, quick to pick up and play and get into, but with a mastery curve which will keep replay value high.  Check out the details at  http://www.gen42.com/tatsu or stop by their stand tomorrow to experience it for yourself.  I picked up a copy of this for myself, and can't wait to start owning my friends at it :)
Osprey Games - My mission for this games expo was to seek out games, with quick play times, that can be kept in a bag and taken anywhere; ready for a game whenever you have a spare 15 minutes.  I hit the jackpot with Odin's Ravens.  It's a 2 player game where you aim to get your Raven back to Odin first, by moving along a landscape track by playing matching landscape cards, or relying on the trickery of Loki. We managed to tear through two games of this, and I could have kept playing.  More details here: https://ospreypublishing.com/odin-s-ravens  
Seek them out in Hall 1, and ask Emma to demo the game.  
Battle of the Bands - A fun, card based, game about the internal politics of being in a touring band.  You play against each other, but also need to work with each other to complete your tours and build your fan base.  The board for the game is printed on a T-Shirt, which was enough to make me want to check it out.  It was well demo'd, and our little group got a kick out of playing it. Great gimmick, and good potential replay value.
BackSpindle Games - They have the Terry Pratchett "Clacks" game. Enough said…  
…well, actually, you can say more, as they are also launching their new game Codinca at the Games Expo.  As with Odin's Ravens above, this game totally fits the bill of what I'm looking for this year.  "A simple strategy game where players try to complete their own code of four patterns using double sided tiles on a board to win the game".  They have copies on sale at the expo, or you can visit their website for pre-orders: http://www.backspindlegames.com/codinca/ 
It plays really well, the build quality is cool, and I love the little things like the starting board layout being on the underside of the, magnetic, box lid.  Small, elegant design, a perfect pocket game.  Check it out.
Brain Games - I have no words, just check out their promo video for "Ice Cool" here: https://youtu.be/hhzIZUQvLng.  It is exactly as much fun to play as it looks.  There was so much hype for this game, and it is totally worth it.  We will be getting a full review up soon.
Thirsty Meeples - Man, these guys are awesome.  They've brought another huge selection of games down to the Expo, and have set up a massive games library.  Show these guys some love, get a library card, find some open gaming space, and experiment with some new games.  It is the perfect opportunity to playtest those games that may have been on your wish lists for a while; go on, you know it makes sense.
Right, that's about everything for Day 1.  Tomorrow I will be competing in the Settlers of Catan UK Championships, I'll be live tweeting my progress over on www.twitter.com/NerdVsWorld so tune in for wood puns and my inevitable collapse when the Jelly Baby sugar rush wears off... :)