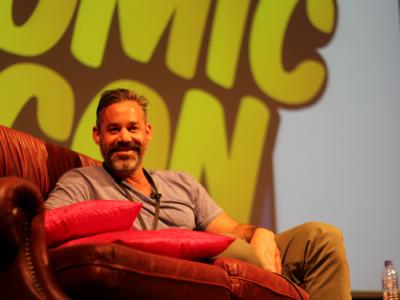 A university may seem an odd choice of a venue for a convention but, on reflection, it has all the necessary facilities that a convention requires. There are large lecture theatres and stages for guest interviews, sports halls for trader zones and signings, large outdoor spaces for attendees to show off their meticulously crafted costumes, and innumerable other spaces that can be re-purposed for photo ops, workshops and all manner of other activities. So, congratulations on the choice of venue. Truly inspired.
As for the offering at the convention itself, there was an impressive array of options to while away the day. I was particularly impressed by the gaming area. Stocked to the gills with pretty much every retro console you could wish for, and a vast selection of titles to play on them. I could have spent literally hours there playing through all the classic games I've loved over the last thirty years. 
A varied and interesting array of Q&A panels was available throughout the day over two lecture halls. Highlights of the day came in the shape of the Red Dwarf panel, Robert Llewellyn, Chris Barrie and Norman Lovett effortlessly entertained the audience with tales of on-set pranks, favourite moments and hints at what is yet to come, including the possibility of a resurgence of another Chris Barrie favourite, The Brittas Empire.
Nicholas Brendon was also both charismatic and captivating during his talk, regaling us with tales of his time on both Buffy and Criminal Minds, and also promise of more to come in his role as writer on the continuing Buffy comic series.
Another highlight of the day for me was the Torchwood panel. I had seen Eve Myles before at the Sci Fi Weekender where she gave a hilarious insight into life behind the scenes on the show. Here, joined by Naoko Mori, the atmosphere is very much like a night in the pub with a few mates, drinking and laughing and telling the filthiest of stories. 
If Q&A's are not your kind of thing then there were many opportunities available for meeting the myriad celebrities in attendance from photo ops to autograph signings and, of course, the after show party. 
While there were a lot of good things about this convention, there were a few things that I thought could perhaps be improved upon. In terms of the talks, it would have made more sense to announce which guests would be attending a panel rather than simply naming the show. For example, while Mark Addy was present, he did not partake in the Game of Thrones panel, I can only assume that he took part in the Atlantis panel instead. Also, by naming the show it limited the questions for a guest to only that specific show rather than others in which they may have appeared. In terms of guest talks, I think there were a couple of missed opportunities. With Matt Ryan and Emmett Scanlan in attendance it was begging for a Constantine talk to happen, given that a decision is still yet to be made on the show's future. Also, Mark Sheppard I'm sure would have been a fantastic talk, as there are very few genre franchises over the last twenty years that he hasn't been a part of.
Finally, if I had one more gripe, it would be with the decision to hold it on a Sunday. It would have made so much more sense to do the event on a Saturday, then an after show party, overnight stay and head home on the Sunday.
Overall I would say it's well worth the visit for the quality of the guests and the excellent venue. We'll see you back there in November for a few games of Pong.