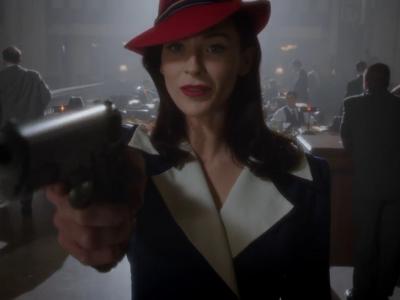 Hey ! 
I think that Marvel must have read my reviews of the last season!
We start by addressing one of my comments about the last episode of season one, namely the short fight between Peggy and Dottie. This is rectified almost straight away with a satisfyingly brutal set to in a bank vault which, to coin a phrase, is right on the money! 
Before Peggy gets a chance to conduct a proper interrogation, Chief Thompson packs her off to Los Angeles to investigate a different case. Thompson hasn't mellowed much, and this posting appears to be to sideline our heroine and embarrass both her and newly appointed 'Chief' Dan Sousa. There appears to have been some attempt at a liaison or two Peggy and Dan in between the seasons that hasn't really gone anywhere, so relations are a little awkward.
Thomson also wants to take control of the Dottie case, he can sense a commendation coming his way for a successful capture and wants all the glory. Oh, and because he's a scumbag who doesn't like ambitions females, or males for that matter. Methinks his arrogance towards women is going to be his downfall here, he is no match for the Red Rooms' 50's Black Widow, this can't be the end for Ms Underwood.
So, it's off to the West Coast for Ms. Carter, to investigate an icy corpse, freed from a frozen lake, beneath the scorching California sun.
There she is reunited with Edwin Jarvis, his wife and the newest member of the Stark household...a pink flamingo. 
The actual case leads to the Isodyne corporation, shenanigans ensure. Here we meet Dr Wilkes, a sympathetic scientist brewing illicit hooch in the lab. He's clearly interested in a more romantic liaison with Peggy, but she keeps him at arm's length.
Investigations between the SSR and their local police liaison Detective Henry diverge, he is assured that he can get the best results and throws a wobbler until he gets his way. Nicely though Sousa has learned to respect Carter's methods and let's her follow her own lead off to the races. Here we meet Calvin Chadwick,the head of the Isodyne corporation and his Hollywood Actress wife Whitney Frost.  
Head of a Marvel Universe Corporation that isn't Stark you say? Fishier than the contents of a Tuna canning factory you say? What could possibly give you that impression? 
Talking of fishy, the FBI start muscling (or should that be 'mussel'ing?)  in on The New York SSR operation. Just as Thompson is making progress with Dottie. Well I say progress. In reality, she is clearly in control.
There is a reason for this of course. The women are much stronger characters in this show than their accepted stations should allow, Carter the superlative Agent, Underwood the unstoppable Assassin, and a new one to add to the mix - Mrs Jarvis.
Ah, yes. Anna Jarvis.
We didn't see her in the last season , but had a few bits of information about her that help form an opinion. None of it pointed to the actuality, and reality is a bit of a shock! We know that Edwin Jarvis is besotted with his wife, and that he'd do anything including treason to stay with her and protect her. Clearly she could survive on her own, and with a mischievous level of passion to offset her husband's' stoicism. We were told in season one that they go to bed at nine o'clock every evening. Presumably she throws him into it! Peggy and Anna bond over a loaded garter belt!
Peggy is also not as before. No more having to prove competence to her peers, they know quality when see it, even if it threatens their masculinity. She's comfortable in her abilities, not having to fight for her place in the team has lightened her. 
Whitney Frost is also going to be  important, her husband could well end up as fish food. As with last year, how on earth have the men in this story managed to convince themselves that they are superior? Not a chance. 
For a first episode we get plot, character, action, double-crossing, burgeoning romance and exploding frozen people. 
The whole thing feels like the twelve months since we last saw Agent Carter was a small mid-season break. As with season one this is a lean, focused, show. It's so refreshing to see a show that is all plot without half a dozen filler episodes before dropping a hint or two about something that isn't going to play out for another fifteen weeks. This is ten in total, it's straight for the accelerator pedal, arc story from the first scene!
Looks like we're in for another great series, already confident and assured that feels like its' going somewhere. 
And I haven't even mentioned the selection of hats! 
Including…
The evil twin of the red fedora…!