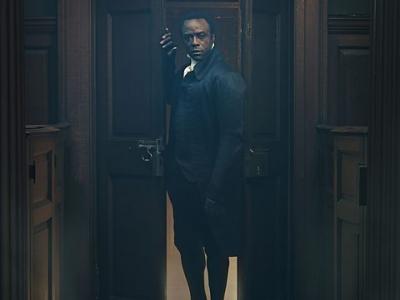 Where were we ?
Jonathan Strange enchanted in a mystical energy sapping vortex, Arabella, Lady Pole and Stephen Black are all still enchanted, Norrell is under the influence of Lacelles, and all the mirrors in England are broken. Oh, and let's not forget Vinculus swinging by his neck from a tree.
With all of this going on, someone needs to take the rap. Step forward Sir Walter Pole, who resigns from the government for releasing magic on the general public in his attempt to bring his wife back from the dead.
Speaking of Lady Pole, there's a small piece of her on the way from Strange via an ex-publicist courier. Drawlight, who is now utterly pitiful, runs into Lacelles who finishes off their partnership permanently. Despite Lacelles best efforts to hide his treachery, the battered and tatty magical  cards that Childermass owns reveal all, there's a confrontation and Childermass leaves Norrell's service with nothing more than an enchanted finger and a bleeding scar across his cheek. 
We're now in endgame territory. Magic is everywhere, with the magicians getting together in Norrell's library plotting to rid themselves of the Gentlemen, his bargains, and rescue Arabella.
This is great stuff. The two leads reconcile, Strange asks for help, and Norrell admits that he is no longer the master magician, and owns up to his bad choices. 
Things move along in a whirlwind like the Black Tower raging around Strange. 
If there is a criticism, it is that some of the ambiguities that are key to understanding the plot are not referenced or not mentioned early enough in the series . The Raven King's name, the nature of the Gentleman's curse to name but two. For one of these it doesn't matter, for the other, which is very important, it feels a little late to be adding this to the plot.
This shouldn't detract too much though. The final episode is a blinder. Lots of confrontation. Lots of magic, lots of comeuppances and lots of kings. And let's not forget a blunderbuss full of walnuts.
At the end we're left with things substantially changed for everyone. This is not your typical "Happy Ever After", indeed for some characters it appears that happiness is far from certain. 
This is a series that is crying out for a sequel, but there is no book to draw from as there has been no follow up from the original by Susanna Clarke since the original was published in 2005 (Ha ! Take that George R. R. Martin you lightweight!).
All in all a satisfyingly appropriate ending.
The use of Magic has had consequences for all. If they'd left it alone their lives would be going on as normal. There is a suggestion though that this was all engineered for a purpose and no-one had a choice anyway.
So, a lavish production, beautifully acted by the whole cast. This has been one of the best pieces of fantasy television from the BBC that I've ever seen. 
A word of warning though if you are thinking of tackling the source material! The book ,though brilliant, is structured very differently to this show, it can be hard going, but is absolutely worth sticking with.
Thoroughly enjoyable. If you get a chance to do see this l then I would strongly  advise you to do so.
In the words of Gilbert Norrell...
"It is very respectable,Sir!"