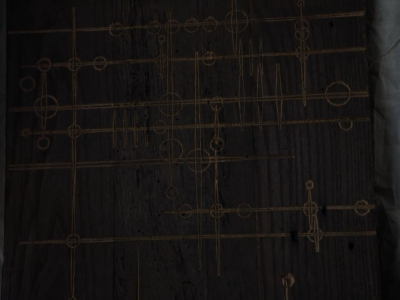 Flying cars, superheroes, gods, invisible Sky-borne aircraft carriers.  Agents Of SHIELD often skirts the fantastic, stretching the boundaries of the possible to breaking point. Within minutes of this episode, the boundaries are broken, jumped on and set fire to.
It is the mundane that fails it here...
Arch-Dick Lance Hunter is schmoozing a female mark on the beachfront, using his "charm" to distract her to obtain an USB stick and he PUTS HIS HAND INTO HER HANDBAG AND IMMEDIATELY FINDS WHAT HE WANTS WITHOUT 20 MINUTES OF FRUITLESS SEARCHING THAT ENDS WITH HAVING TO DUMP THE WHOLE CONTENTS ONTO THE FLOOR, AND STILL TAKE ANOTHER 5 MINUTES TO FIND IT.
The USB stick is required to gain access a charity function shiowcasing a "Miracle Painting" that was saved untouched in a church fire. The painting's most striking feature is on the back, the Mysterious Symbols from Coulson's subconscious and the Obelisk.
Unfortunately S.H.I.E.L.D. aren't the only organisation on the trail of the painting. Go on, have a guess as to who else knows it has symbols on the back?
This time we see some of HYDRA's undercover work, and it's effective and slick. Disguises, technology, information and brutality...fun for all the family.
The S.H.I.E.L.D. mission is a bit more fun though. As party-going socialites, the team go undercover at a charity function to steal the picture.
It's nice to see Coulson and May working together and having some FUN! Yes, even May! It's SO different, that on the sound of May laughing over the radio, it's assumed that something is wrong. It's a nice refreshing change to see Coulson and May not just being used as exposition and threats.
A gizmo from Captain America 2 appears and it is used as a really effective way to forward the episode and one of the series sub-plots.
Secondary plots abound in this episode.
Coulson is increasingly worried about himself and is looking to do some succession planning.  Mystic Symbols are popping up, Dr Whitehall appears to know exactly where his stolen Obelisk is, Fitz once again proves useful in a techno-crisis, and Hunter once again goes on about his ex-wife. I can see her appearing soon.
The performances really improved this week, May, Coulson and even Hunter were different from their normal selves and were a much more friendly set of characters as a result. The standout once again though is Fitz, who may be starting on the slow road to recovery.
Mind you, normal service is soon returned, fighting, double-crossing, sabotage, and this season's favourite ... TORTURE! Yes, this time electrocution for information, and a little gratuitous pain infliction to make a point about how nasty the chief Nazi is. Because if you aren't reminded on a regular basis that Nazis are bad you might start to sympathise with all of the positive things they get up to in this series like ......erm.........or............erm........ok, let's gloss over that bit.
So what starts as a slightly frothy and fun episode degenerates into a good action packed episode, this season is such an improvement over last year.